This is part 1 of a 3 part blog about QR codes. If you already know what a QR code is and how to use them, feel free to skip to other sections.
Part 1 – What is a QR code and how are they implemented?
Part 2 – Current uses of QR codes.
Part 3 – QR codes and dentistry. The future of QR codes.
What is a QR Code?
QR stands for Quick Response. It is information encoded into a symbol or picture much like a UPC code. Here is a sample QR code:

The information embedded in a QR code can be one of four things:
1. Basic text.
2. A vCard (contact information, name, address, web site, phone number, etc).
3. URL (link to a web site).
4. An email or text address.
We'll get to how they are used next, but first it should be mentioned that QR Codes can be generated for free online through a number of web sites. One site that is easy to use is: http://qrcode.kaywa.com . You can Google "free QR Code generator" and find many other sites.
DO NOT PAY someone to create a QR Code for you. It is a simple 1 minute process on the web site above. Do not fall for the schemes where people charge you $200 or more to create a QR Code for you.
How do I use a QR Code?
First of all, a QR Code must be read or scanned. QR Codes are typically scanned by taking a picture of it using a smart phone. The smart phone must have a QR Reader app installed. Many newer models come with QR Reader software, some do not and the software must be downloaded.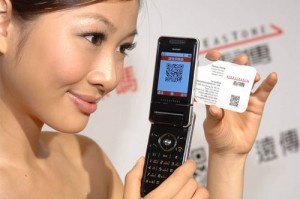 When the QR Code is read, your phone will exhibit a specific behavior depending on what type of information is embedded in it. If it is text, the smart phone will display the text you embedded in the code. If it is a vCard, the phone number and contact info will appear on your phone without anyone having to type it in. You can then save the contact or initiate a phone call. If the embedded information is a URL – the phone will browse to that web address. Finally, if it is email / text, it will open up a new message for the user to create with the address (To: line) already populated.
Who uses QR Codes?
So now you know what a QR Code is and how to read one – the next step is fairly intuitive – QR Codes are utilized by smart phone users. Without a reader and software, the QR Code is just an interesting ink blot.